Bathroom with shower and private toilet and radio.
Small hall mit Garderobe.
Historical wooden stairs in the staircase from 1928, refurbished in 2014.
Hinweise für Raucher in der Fewo
Haustiere in der Ferienwohnung
Haustiere sind in der Ferienwohnung nicht gestattet.
Motorcycles, bicycles, parking lot
Motorcycles can be parked in the house in a locked room, upon request, per motorcycle, per every started 24 hours 2 EUR. Bitte bei Anfrage oder Buchung mit anmelden.
Bicycles can be parked in the house in a locked room free of charge. Bitte bei Anfrage oder Buchung mit anmelden.
Parking lot, roofed, about 170 meters from the holiday apartment, upon request, per every started 24 hours 5 EUR. Bitte bei Anfrage oder Buchung mit anmelden.
Apartment rates upon broom clean return including final cleaning:
1 overnight stay for up to 2 adults 60 EUR.
2 overnight stays for up to 2 adults, per night 45 EUR.
3 overnight stays for up to 2 adults, per night 35 EUR.
From 4 overnight stays for up to 2 adults, per night 30 EUR.
7 Nächte buchen = 6 Nächte zahlen = 180 EUR.
Kind bis 35 Monate mit selbst mitgebrachtem Reisebett kostenfrei.
Child ab 3 Jahren per overnight stay 10 EUR.
Badetuch und Handtuch (bitte bei Buchung mitbestellen), pro Satz 5 EUR.
20 % payable upon booking within 8 days. 90 % payable upon arrival.
20 % Anzahlung siehe Zahlungsbedingungen.
80 % Restzahlung siehe Zahlungsbedingungen.
Key deposit siehe Zahlungsbedingungen.
Anreise, Abreise
Anreise ab 14 Uhr bis 18 Uhr (falls Sie später anreisen möchten bitte bis 18 Uhr anrufen).
Abreise bis 11 Uhr.
Zahlungsbedingungen der Ferienwohnung Wilhelm Hermann
20 % Anzahlung als Überweisung zahlbar auf mein Bankkonto bei Buchung innerhalb 8 Tagen nach Rechnungsstellung. Sie erhalten eine E-Mail-Bestätigung der Anzahlung.
80 % Restzahlung in bar bei Anreise.
Key deposit 50 EUR payable upon arrival; will be reimbursed upon departure of the broom clean return of the vacation apartment.
Sollte die 20 % Anzahlung innerhalb 8 Tagen nach Rechnungsstellung nicht erfolgt sein, gehe ich davon aus, dass Sie nicht buchen möchten, und gebe den angefragten Buchungszeitraum wieder in den freien Verkauf.
Die Anzahlung in Höhe von 20 % wird bei einer Stornierung nicht zurück erstattet.
Bei einer Stornierung ab 30 Tage vor dem Anreisetag sind weitere 70 % sofort fällig. Sollte die Ferienwohnung anderweitig vermietet werden können, wird der Restbetrag in Höhe von 70 % abzüglich einer Rücküberweisungsgebühr von 5 EUR nach Anreise der anderen Gäste zurück überwiesen.
Ich empfehle den Abschluss einer Reiserücktrittskostenversicherung: www.reiseruecktrittkosten.de
Landkarte Mittelrhein zwischen Koblenz, Lahnstein, Loreley, Oberwesel, Bingen und Rüdesheim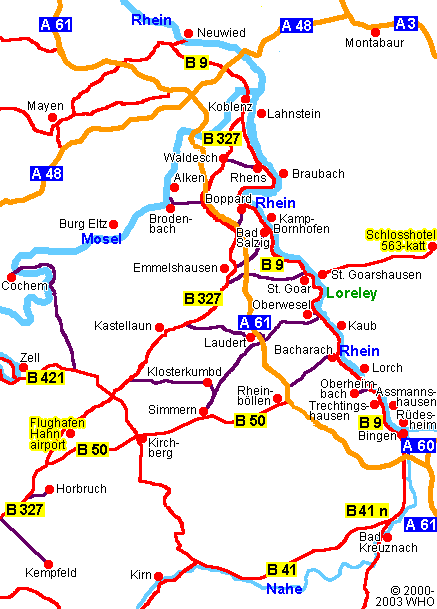 The city of Oberwesel on the Rhine River, above which the 1.000-year-old castle Schonburg thrones, fulfills lots of expectations:
1 Gehminute zum Zeitschriftenhändler mit Schreibwaren und Spielwaren, Textilgeschäft, Elektrogeschäft, Friseur sowie 2 Gasthäuser, 1 Café mit Gelegenheit Frühstück zu bestellen und 1 Hotel-Restaurant mit Gelegenheit Frühstücksbuffet zu bestellen.
2 Gehminuten zum Marktplatz mit Kreissparkasse, Volksbank und 2 Geldautomaten, Toto-Lotto, Eiscafé, Pizzeria, Bistro, Straußwirtschaft, Bäckerei und Post.
3 Gehminuten zum Lebensmittelgeschäft, Optiker, Blumenladen und Juwelier sowie Heimatmuseum im Kulturhaus.
Im Umkreis von ca. 200 m gibt es 3 Allgemein-Ärzte, 1 Internist, 2 Zahnärzte und Apotheke. Zum Krankenhaus sind es ca. 420 m.
Von der Ferienwohnung aus erreichen Sie in 5 bis 10 Gehminuten verschiedene Wanderwege entlang dem Rhein-Burgen-Wanderweg durch die Weinberge mit Aussichtspunkten und Blicken ins Rheintal.
2 Gehminuten zu 4 Schiffsanlegestellen am Rheinufer vom Welterbetal Mittelrhein.
5 Gehminuten zum Bahnhof an der linksrheinischen Bahnstrecke zwischen Mainz, Bingen, Bacharach, St. Goar, Boppard und Koblenz am Rhein (siehe Landkarte mit Rheinverlauf oben). Fahrplan mit tagsüber stündlichem Bahnverkehr in beide Richtungen rheinaufwärts und rheinabwärts.
Ca. 250 m von der Bundesstraße B 9 am Rheinufer.
Ca. 11 km von der Autobahn A 61 Abfahrt Laudert.
Ob per Auto, Bahn oder Schiff – die Anbindung an das Verkehrsnetz ist optimal.
1 walking minute to the newspaper merchant with office and writing supplies as well as toys, clothing store, electric shop, hairdresser's and tavern, 1 café with possibility to order breakfast and 1 hotel restaurant with possibility to order a breakfast buffet.
2 walking minutes to the market place with 2 banks and 2 ATM machines, Toto-Lotto (to play German lottery), ice cream parlor, pizzeria, Strausswirtschaft (special wine tavern) and bakery.
3 walking minutes to the grocery store with butcher shop and post office, optometrist and flower shop as well as museum of local history in the culture house.
In the surrounding area of about 200 meters, there are 3 general doctors, 1 internist, 2 dentists and 2 pharamcies. The hospital is about 420 meters away.
.
You'll reach different hiking paths along the "Rhein-Burgen-Wanderweg" ("Rhine castles hiking path") through vineyards with lookout points and views towards the Rhine River valley from the vacation apartment.
.
2 walking minutes to 4 boat landing stages (German page) at the Rhine River banks of the world heritage valley Middle Rhine River.
5 walking minutes to the train station (German page) on the left side of the Rhine River between Mainz, Bingen, Bacharach, St. Goar, Boppard and Koblenz / Coblence on the Rhine River (see road map with Rhine River course at the right). Time schedule with hourly railroad traffic during the day in both up- and downstream directions.
About 250 meters from the federal highway B 9 at the Rhine River banks.
About 11 km from the freeway (Autobahn A 61), exit Laudert.
No matter if per car, train or boat – the connection to the transport system is ideal.
---
This insiders' tip is well worth a visit!
One thing definitely not to be missed in Oberwesel on the Rhine is a wonderful antique shop, which deals in original old steel engravings, copper engravings, wood carvings and etchings of the Lorelei rock and all the castles and towns along the Rhine and in the Rhine River valley. The shop is in the Holzgasse (a small side street full of old half-timbered houses) right in the middle of town, on the corner of Liebfrauenstr. 41.
---
---
Non-smoking canopy bed holiday apartment
Wilhelm Hermann
Liebfrauenstr. 39
55430 Oberwesel on the Rhine River
Germany
Phone +49 (0)6744 711 270 daily from 9:00 a.m. to 12:00 p.m. and from 1:00 p.m. to 5:00 p.m.
Cell phone +49 (0)179 250 6757 daily from 9:00 a.m. to 12:00 p.m. and from 1:00 p.m. to 11:00 p.m. (lunch break from 12:00 p.m. to 1:00 p.m.).
info@ferienwohnung-weinproben.de
---